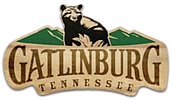 "Music, Mountains, and Moonshine"
Gatlinburg, Tennessee
July 13-19, 2014
Great Memories of Gatlinburg!
The CACI convention-vacation in Gatlinburg, TN. And the Great Smoky Mountains was truly a HIGH! Breathing the mountain air and enjoying the scenery of the verdant landscape with the 100 CACers…many valued, seasoned and many newly-met friends WAS ENJOYABLY REFRESHING!
The delegate meetings were well-planned and efficiently executed, and for that…CONGRATS to the executive board: Susie S., President; Margie C., 1st VP; Mike K., 2nd VP; Sandy S., Secretary; Teresa W., Treasurer; and their committees!
We toured Gatlinburg and the environs from the Great Smoky Mountains National Park, the Cherokee Indian Reservation where we watched intriguing craftspeople and were treated to Indian dancing. We went to the Arts and Crafts Communities, took aerial rides, did zip-lining and whitewater rafting, visited the "largest aquarium in the mountains" and enjoyed ourselves at Dollywood. Tuesday evening's BBQ picnic with great bluegrass music to entertain us set the tone for the entire week.
KUDOS to the convention coordinators Barb A., Rhonda H. and the reservation manager, Debbie K., for a well-planned and perfectly executed 6-day FUN convention.
Those who attended the pre and post trips had compliments for Jim S. and his committee, too.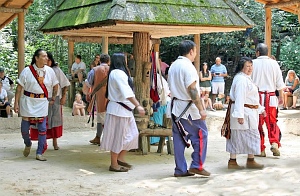 Cherokees demonstrating one of their 'courting' dances.
See the Convention Reservation Form for the 2014 Convention itinerary.