CACI "All American" Convention
July 10-16, 2011
Mt. Rushmore • Badlands • Black Hills • Rapid City • Deadwood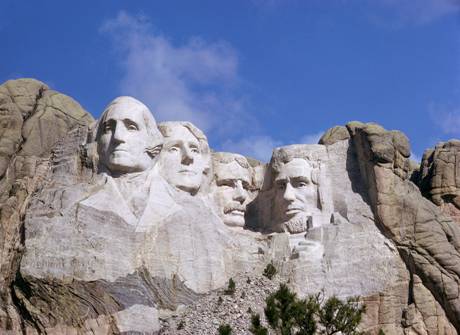 "A monument's dimensions should be determined by the importance to civilization of the events commemorated…Let us place there, carved high, as close to heaven as we can…our leaders, their faces, to show posterity what matter of men they were. Then breathe a prayer that these will endure until the wind and the rain alone shall wear them away" – Gutzon Borglum, Rushmore sculpturer
The Mount Rushmore region is annually one of the nation's "top ten" vacation destinations and is visited each year by more than three million people from throughout the U.S. and the world and will be the site for the 2011 Convention/Vacation of Catholic Alumni Clubs International (CACI). Our 2011 convention is scheduled from Sunday evening, July 10, through Saturday morning, July 16, in Rapid City, South Dakota. The host hotel will be the Ramkota Hotel and Conference Center which features a large indoor pool and water park as well as an award-winning restaurant in-house and the largest shopping center in the region nearby.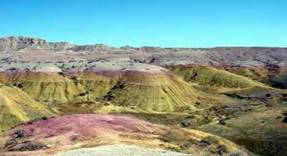 The Majestic Badlands of South Dakota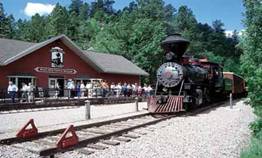 1880 Train Ride thru the Black Hills
The convention package includes six nights at the hotel, six buffet breakfasts in our own private dining room, four banquet meals, two dances, a casino entertainment night, guided transportation to Mount Rushmore (with admission, buffet meal, museum tour and evening Lighting Ceremony included),daily liturgies, after-hours parties and much more.
Besides the magnificent Mount Rushmore National Memorial, the region features the beautiful Black Hills with its many picturesque mountain peaks and meadows; the mysterious Badlands and its unique sights and vegetation; the Crazy Horse Monument, which will be twice as tall as the Rushmore memorial when completed, and its Native American Center and Museum; historic Deadwood city and the graves of Wild Bill Hickok and his girlfriend Calamity Jane buried side by side; the drugstore in Wall, SD, billed as "America's # 1 Roadside Attraction"; the site of a disabled intercontinental atomic missile silo from the Cold War days; Custer State Park, which is the home of one of the world's largest free-roaming buffalo herds and other wildlife; Rapid City, the "City of Presidents" with special life-size sculptures of all previous U.S. presidents on downtown street corners; the Journey Museum which explores the region's history from prehistoric dinosaurs to homesteaders; and many opportunities for shopping and eating at regional establishments.
Our convention hotel, the Ramkota Best Western Hotel and Conference Center, features a large heated indoor pool, fitness center and whirlpool, the award-winning Minerva's restaurant and bar, free high-speed internet access, free computers and printers in the lobby for guests, and complimentary shuttle to the airport and some local attractions. The hotel has large free parking lots and is located on Interstate 90 at exit 59, in Rapid City. Major auto rental agencies are located at the Rapid City Regional Airport and rental cars also can be delivered to the Ramkota Hotel.
Many of the attractions in Rapid City can be reached via the free hotel shuttle. One of these is the Journey Museum. This large facility provides an incredible trek through the history and culture of the Black Hills region. Learn how the Black Hills were formed, discover fossils and dinosaurs, experience the lives and listen to the legions of the Lakota Sioux People. Follow the footsteps of pioneers and gold miners.
At the Journey Museum, you can board the City Trolley which will take you to more than 15 stops around the city, including Memorial Park, which contains America's largest Berlin Wall exhibit; and also the Chapel in the Hills (a replica of the famous 850-year-old Stave Church in Norway); as well as the Prairie Edge Trading Company and Galleries which offers the world's foremost collection of authentic Native American art, crafts, jewelry and culture.
Tour Information
Tuesday: Tour of Deadwood, a 19th century gambling town, made famous on 8/2/1876, when Wild Bill Hickok was shot and killed while playing poker in the Nuttal and Mann's Saloon # 10. You will visit the historic downtown that now includes casinos and shopping opportunities. This tour also includes a trolley ride to MT. Moriah Cemetery. Narration included. Cost: $45.
Wednesday: This all day tour will begin with an hour long train ride through the beautiful Black Hills from Keystone to Hill City. Our tour then takes us through more Black Hills to the Crazy Horse Memorial and the Indian Museum of North America and lunch (on your own). Our tour then takes us for a drive through the 71,000 acre Custer State Park and its wild life areas. We will have dinner (which is included) at the historic State Game Lodge. Narration included. Cost: $85.
Thursday: Discovered in 1876, Rushmore Cave is one of the most visited private caves in the U.S. Our tour will explore passage ways to spectacular stalactite and other amazing cave formations. "Where nature does the carving…" Cost: $37
Friday: Going east this time, first to a memorial of the Cold War, an abandoned missile silo, then on to the Badlands, seeing unusual and beautiful rock formations, then to Wall, SD, and learn its unusual history. While there, you can visit the Wounded Knee Museum and have lunch (both your own). Narration and admission to the Badlands Park is included. Cost: $53.
MINIMUM NEEDED FOR EACH TOUR: 25 PEOPLE. $10 LATE FEE IF SIGNING UP AT THE CONVENTION. PRICES ARE FINAL AND NO REFUND FOR CANCELLATIONS.
Getting To Rapid City.....
The Rapid City Regional Airport is served by several airlines including American, Delta, United, Frontier and Allegiant with direct flights from Chicago, Dallas/Fort Worth, Denver, Minneapolis/St. Paul, Phoenix, Salt Lake City and Las Vegas. The Ramkota Hotel provides free shuttle service from and to the Airport which is located eight miles from the hotel. The hotel is located on Interstate 80 at Exit 59. Rental car agencies located at the airport include Alamo, Avis, Budget, Enterprise, National and Hertz. Free parking is provided at the hotel.
Special incentive for signing up early!
All reservations received by April 1 are eligible for a drawing for $350 credit toward your reservation, donated by the Ramkota Hotel.
Post Convention
Yellowstone & Teton
July 16-20, 2011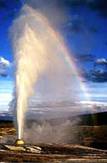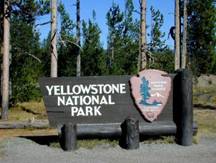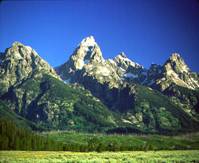 Old Faithful
Yellowstone National Park
Grand Tetons
Encounters of the Third Kind. This Tower has much Native American history and legend behind it also. We then travel through the little Bighorn Mountains and stay overnight in Buffalo, Wyoming, an historic western town. The next day we travel to Canyon Village where we will see the Grand Canyon of Yellowstone and its Lower Falls.
We will stay overnight in this area. The next day we travel to see Old Faithful and other nearby sights. We will stay overnight nearby. In the morning, we move on to Grand Teton National Park and explore the Inner Teton Park Road, Jenny Lake Loop, for some of the most scenic sights of the Park. To round off the trip we will stay in downtown Jackson Hole, another historic Western city. So pack your bags and come along on an exciting post convention vacation. This is a trip not to be missed!
Post Convention pricing is on the application form. Additional info is available at a special web page set up for us at http://wildwestvacationsandtravel.com/cp11_cacigroup45-4.html.
For more information...
See the official Convention Reservation Form. Please reserve your space ASAP as spaces may be limited.
Contact:
Mike Kappel • 618-397-2320 • Mikek21798@aol.com or
Teddi Tri • 952-797-6633 • tedtri07@gmail.com.
Request a 2011 South Dakota "Vacation Guide" at 1-800-SDAKOTA or www.travelsd.com.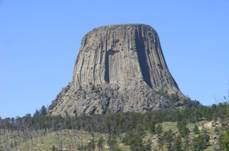 Devils Tower, Wyoming

Buffalo, aka Tatanka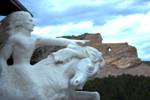 Crazy Horse Memorial

Antler Arch – Jackson, WY
"Great Places, Great Faces, Great CACI Fun!"