Convention Brochure w/ Reservation Forms
(PDF Format - Adobe Reader required.)
CACI's 2007 Port of Call
July 22 to 27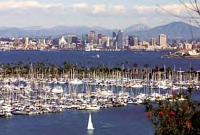 On the shore of the Pacific Ocean sits the beautiful and relaxing city of San Diego. A national magazine once called this city "the only area in the United States with perfect weather." CACers will experience just how beautiful San Diego is when CACI makes San Diego its "port of call" for our 2007 National Convention from Sunday, July 22 to Friday, July 27 at the Kona Kai Resort and Spa, a spectacular waterfront getaway on San Diego's Shelter Island.
San Diego, the second largest city in California, was discovered in 1542 by Juan Rodriguez Cabrillo. A city rich in Spanish, Mexican, and American history, there are many opportunities for exploration. Optional, organized tours include a trip to Cabrillo National Monument, near the tip of Point Loma, which marks the spot where Cabrillo claimed the West Coast for Spain; Balboa Park, with more than 15 museums; a "must see" for all visitors, the highly acclaimed San Diego Zoo, with its Ariel Tramway and fascinating exhibits. The original Sea World - which serves as a model for other similar exhibits - is only a stone's throw away. Within an hour's drive, you can spend the day at San Diego Wild Animal Park.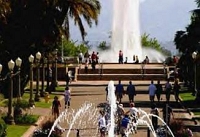 A city tour will include many of the area's high points, including Mission Basilica San Diego de Alcala (the "Mother of the Missions"), where you can learn about life in early California. The Aircraft Carrier Museum onboard the USS Midway, which served for 47 years and in three wars, is a highlight. Visit Old Town San Diego with its adobe buildings, history, and Old Town Market with its festival atmosphere. The historic Gaslamp Quarter boasts turn-of-the-century elegance with its Victorian buildings and many shops and restaurants. Stroll along the harbor from the USS Midway to Seaport Village with its waterfront shopping and dining with bay view restaurants and sidewalk eateries. Other great places to visit include Palomar Observatory; the Reuben H. Fleet Space Theater and Science Center; and Del Mar Race Track.
Just 30 minutes from the Kona Kai Resort you can spend the day exploring the enchanting village of La Jolla, a unique upscale enclave with dozens of interesting shops and galleries. It is also home to a number of interesting and unique attractions, including Scripps Institute of Oceanography and the La Jolla Playhouse. And a visit south of the border to Tijuana, Mexico is only minutes away - ole!
Our home for the week - the Kona Kai Resort and Spa - offers serenity that is timeless. This beach resort hotel, uniquely located to allow easy access to all the exciting area attractions, is set on 11 acres of lush tropical gardens situated at the tip of Shelter Island on San Diego Bay. You are awakened each day by a spectacular San Diego view that never gets tiresome. Each of the spacious guest rooms is well appointed in a gracious islands style with private balcony or patio. Kona Kai's classic features of alabaster walls, red tile roofs, and archways set the tone of the resort and create a warm and relaxing atmosphere in a Mediterranean style.
This Shelter Island resort offers a protected, sandy, sunning beach that is just steps away. Recreational features include swimming pool and spa, full service fitness club, a sunning beach with volleyball courts on the sand, adjacent bicycle and tennis court rentals, and jogging paths. With 23,000 square feet of outdoor space encompassing courtyards and gardens, the possibilities are as endless as your imagination. From sail boat charters to scuba diving, you'll find it all. Kona Kai is only a short drive from excellent golfing in San Diego and La Jolla.
The "early bird" convention registration package, postmarked no later than May 18, is $745 for double occupancy and $1,155 for a single. This price includes five nights at the Kona Kai; breakfast each morning; four dinners; two dances; four Masses; "special" entertainment; after hours parties; and other activities. The convention package price after May 18 and before June 1 are $770 (d/o) and $1180 for a single. Prices after June 1 are $795 and $1205.
Individual registration packets - complete with tour information - will be mailed shortly to all CACers who attended recent conventions. Registration forms will also be mailed to all CAC chapters for distribution with their monthly newsletters.
From historic Old Town to modern day attractions, San Diego offers something for everyone. For more information, contact Janet Yntema (Detroit) at 313-882-0990 or via E-mail at janety602@aol.com, or Rita Walczyk (Detroit) at 248-336-0391 or via E-mail at firecracker_jl(L, not one)04@yahoo.com. Book your flight now to San Diego's International Airport, also know as Lindbergh Field.
To request a free vacation planning kit, contact the San Diego Convention and Visitors Bureau at 619-236-1212 or their website at www.sandiego.org.
Join us this summer as we all discover San Diego: CACI's 2007 Port of Call!