Be a part of the excitement . . . join in the fun . . . CAC's biggest party of the year!
FIESTA GRANDE
SAN ANTONIO, TEXAS
July 25-31, 2004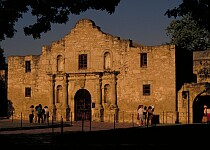 San Antonio is a city pulsing with modern frontier excitement and laced with the quaint charm of yesteryear. Its heritage, culture, traditions and natural beauty create a unique blend that has attracted adventurers, entrepreneurs, and visitors for hundreds of years. From the earliest Spanish missionaries of 1691 to today's corporations and visitors, its appeal continues to draw attention.

The St. Anthony Hotel, with its rich heritage, has been designated a Texas and a National Historic Landmark. Built in 1909, it was named after the city and St. Anthony of Padua. It overlooks the famed Travis Park, in the heart of downtown San Antonio. The hotel is only a few blocks from Paseo del Rio Riverwalk, Rivercenter Mall, and The Alamo. And less than a mile from museums and local attractions.
Make memories with CAC'ers...seasoned friends and new friends alike...and experience SAN ANTONIO!
Stroll the Riverwalk, the city's crown jewel, and sample the wares from a myriad of charming waterside cafes & shops. Or cruise the waterway~ serene and park-like, and always vibrant with life.
Gaze upon the cityscape from the observation deck at the Tower of the Americas in Hemisfair Park...
Explore the 16+ different museum centers~ The Instituto de Mexico & The Institute of Texan Cultures~ The McNay Art Museum~ The Witte Museum of history, science, and culture...just to name a few.
Relive history and experience the spirit of The Alamo~ our Shrine of Liberty~ and then continue on the Mission Trail. Tread the intriguing past of a city where yesterday can be experienced today.
Day trip to Austin~ the capital of Texas...Fredericksburg~a quaint German village...the L.B.J. Ranch.
Meander through the artisan community of La Villita or the festive marketplace El Mercado.
Relax in the pool, hot tub, sundeck and exercise facility in the luxurious St. Anthony Hotel...heavenly!
Your Package Includes:
Accommodations for 6 nights in the historic and elegant St. Anthony Hotel
6 breakfasts, 5 dinners
An evening cruise along the famed Riverwalk
Liturgies and Spiritual Services
Guest speaker ~ Fr. Jack Frerker, former CACI chaplain and published author, Storyteller extraordinaire!
Entertainment with a San Antonio flare!
Dances and Parties...Tex-Mex Theme Night
Use of the hotel's outdoor swimming pool, hot tub, sundeck, and exercise facility
Sports and tour packages available
Transportation:
The St. Anthony Hotel is located in the heart of downtown San Antonio, 8 miles from the airport...20 minutes by car, taxi (approximately $16.00 each way), or airport shuttle (approximately $9.00 one way or $16.00 roundtrip). The shuttle runs from 7am-1am daily with departures every 10 min. for downtown hotels. Call (210)281-9900 for 24 hour information and reservations or visit online at www.saairportshuttle.com.
All major car rentals are available at the airport or once at the hotel, can be arranged through the concierge's desk.
Parking options range from self parking to valet services ~ $5.00-$17.00 per day.
May we recommend becoming a Wyndham by Request member. Visit www.Wyndham.com or call 1-800-WYNDHAM for information.
The St. Anthony Hotel
300 East Travis Street
San Antonio, TX 78205
(210)227-4392
www.wyndhamstanthony.com
Tour Opportunities
In order to insure the optimum flexibility and convenience for your touring needs, this year's tours will be scheduled and directed by San Antonio City Tours. Agents will be available at the hotel from 1-5 P.M. on Sunday July 25. Payment will be made directly to them at the time of scheduling. Should you choose to schedule tours before the convention, call SA City Tours @ (210)228-9776 or visit their website @ www.sanantoniocitytours.com. Be sure to mention that you are with the Catholic Alumni Club staying at the St. Anthony Hotel.
Tours offered will be a: GRAND CITY TOUR (all day)...HIGHLIGHTS CITY TOUR (half day)...HILL COUNTRY TOUR (all day)...MEXICO SHOPPING TOUR (all day/8 person minimum)...TROLLEY TOUR. All tours will be offered daily and will depart from the hotel, with the exception of the Trolley Tours which will depart from the Alamo Visitors Center.
Sports Opportunities
TUESDAY JULY 27 12-2:00P.M. ~ TENNIS at McFarlin Tennis Center

The U.S. Tennis Association recognizes this center as one of the best public facilities in the country. It offers 22 outdoor courts and we have the privilege of using the courts for $1.50 per person. Come join us in the game of "love"! Roundtrip transportation fee is $6.00.
To participate, mark the sports reservation form, tally all costs, and enter the amount on the "Sports Fees" line of the reservation form. Include the amount in your "GRAND TOTAL" check to CACI.
THURSDAY JULY 29 12-2:00P.M ~ VOLLEYBALL at Fatso's Sports Garden

Six sand courts; 4000 square feet of shaded deck area with a misting system; eat out on the patio or inside at the "sports eatery". The lunch menu includes appetizers, tacos, sandwiches and burgers ($4.25-$6.99). There will be NO CHARGE to use the courts. The only cost will be the price of your drinks and food...so, plan to have a VB lunch party and thank Steve (proprietor) for letting us use his popular facility! Come to play or come to watch...being together is what CAC is all about! Roundtrip transportation fee is $6.00.
To participate, mark the sports reservation form, tally all costs, and enter the amount on the "Sports Fees" line of the reservation form. Include the amount in your "GRAND TOTAL" check to CACI.
FRIDAY JULY 30 7:45 A.M. /Tee Time 8:30 A.M. ~ GOLF at Olmos Basin

One of San Antonio's most popular courses, it is highlighted by a collection of demanding par 3 holes...Yards 6,896...Rating 71...Par 72. Green fees are $33.00 per person which includes the cost of a cart. Club rentals are available for $10.00. This will be a SCRAMBLE...so get into "the swing of things" and join us for a day of outside fun and friendship! Roundtrip transportation fee is $6.00. Tee times are being arranged for in advance to insure availability. For this reason, NO SENIOR RATES APPLY.
To participate, mark the sports reservation form, tally all costs, and enter the amount on the "Sports Fees" line of the reservation form. Include the amount in your "GRAND TOTAL" check to CACI.
To Register:
Print, complete, & mail Application Forms (Microsoft Word format):
2004 CACI Convention/Vacation Reservation Form
2004 CACI Convention/Vacation Sports Reservation Form
(Don't have Word? Download the Word Viewer)
For More Information:
Check out these websites:
San Antonio Convention & Visitors Bureau
SanAntonio.com
www.wyndhamstanthony.com
Contact Convention Coordinators:
Bob Giardina Ellen Scherrer
(504)456-0303 (CST) (513)451-6959 (EST)
bobgno@lycos.com ESche822@aol.com

Contact Reservations Chairperson:
Mary Arranz
16 Chetwynd Road
Paoli, PA 19301
(610)251-0955 (EST)
caci04resv@yahoo.com
Please Note:
You must be a member of CAC in order to attend the convention.
Each person must submit a completed reservation form.
Signature of the "WAIVER of LIABILITY" is required.
Hotel check-in is 3:00 P.M.
Sunday Mass will be at 5:00 P.M., followed by cocktail parties at 6:15 P.M. and dinner at 7:00 P.M.
There will be no pre or post convention. However, the convention rate will be available at the St. Anthony Hotel, 3 days before and 3 days after the convention for your convenience.
Make your reservations by MAY 10th, 2004 and receive the EARLY BIRD price!